8 Essential Chatbots You Need to Know
02 September 2019
Man: I love you Siri.
Siri: Oh, I bet you say that to all your Apple products.
Man (chuckles): Ok tell me what you are wearing?
Siri: Aluminosilicate glass and stainless steel. Nice huh?
Man (chuckles): Do you think I am fat?
Siri: I'd rather not say.
Siri is just one of many feisty chatbots that is fooling humans online. Some of these types of chatbots are so smart and funny that you would prefer to interact with them than real humans. And unlike humans, they never get impatient, or become unavailable on national holidays.
But before we go on flirting with the idea of making chatbot friends, let's find out what these types of chatbots really are. They are computer programs designed to simulate human conversation with users through web-based applications or stand alone apps.
And believe it or not, by 2020 it is estimated that over 85% of customer interactions will be handled without a human. There are many types of chatbots that are already going far beyond performing routine tasks in various fields.
Here is a list of 8 most important use cases of chatbots across different industries:
1) Shopping Bot
Each time a walk-in customer has a query, and it goes unattended, the retail store loses business. Thanks to shopping bots designed to be virtual shopping assistants, the purchasing journey for both customers and sales staff has become very easy.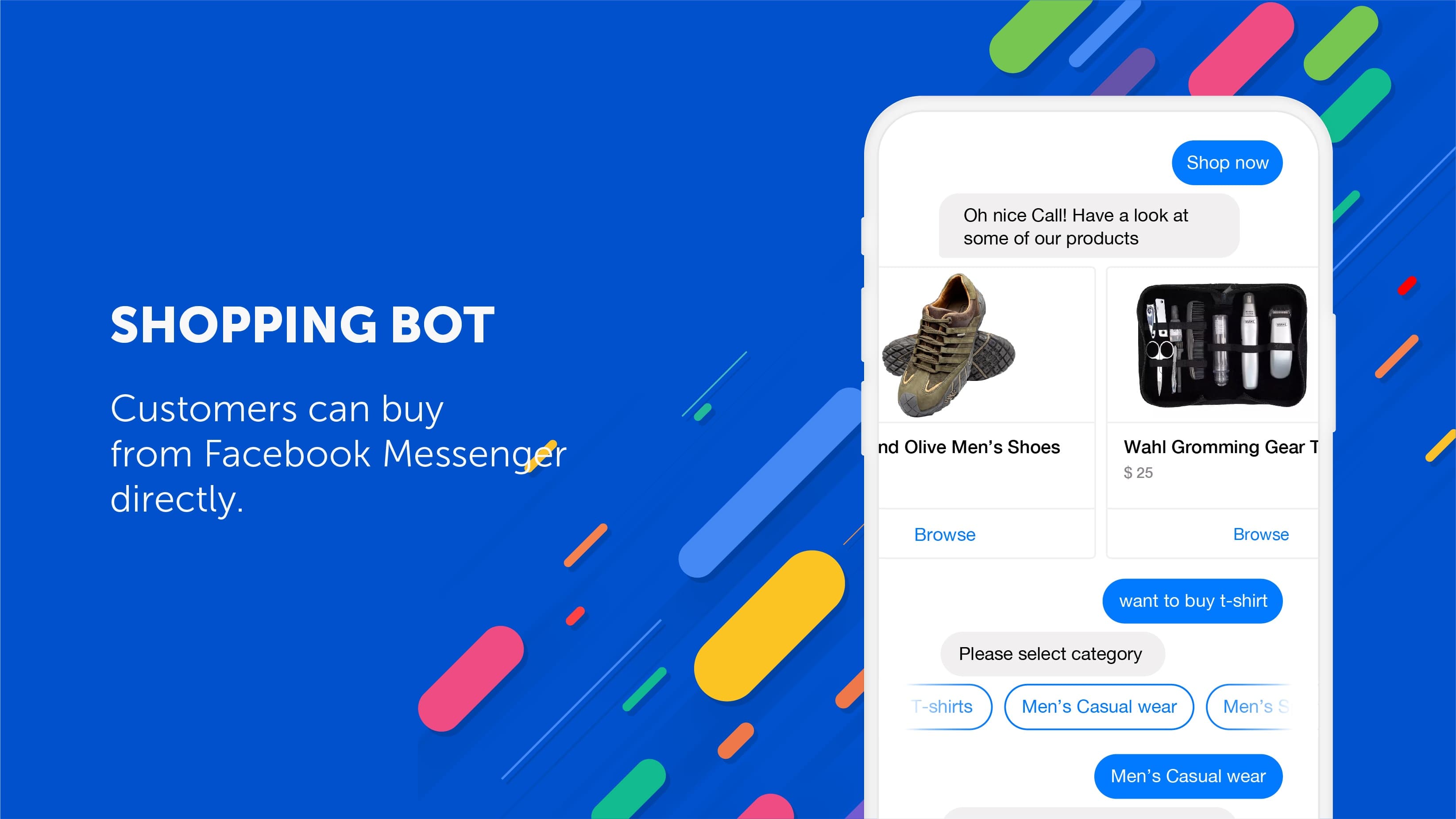 Now let's say a customer walks into a store looking for a pair of trousers. He/she wishes to have a certain material, size and style of the trousers. The bot gathers information from various sources and then relays it in the form of pictures of the trousers available, the price range, the discounts and the in-store location. Bam! The customer clicks on his preferred choice and the purchase is done.
Example: Uniqlo IQ is an intelligent shopping chatbot that besides answering the basic shopping queries, also bubbles up product rankings by occasion, personal preferences, and even daily horoscopes. It helps digital window shoppers complete purchases by providing directions to the closest Uniqlo store with products in stock.
2) Lead Qualification Bot
Conversations can be the fastest route to revenue. But sales rep cannot be available to open conversations 24/7 with potential leads. That's where Lead bots come in.
They are like smart sales assistants who target website visitors with personalized messages and then route them to appropriate sales reps.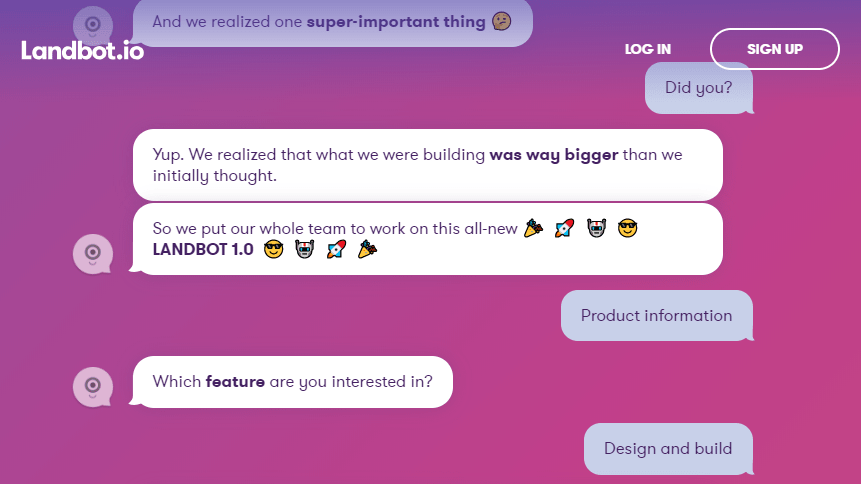 Example: At Lean Apps, we have a chatbot that engages with visitors on our site, telling them what sort of services we offer – app development, UX, design sprint etc. This allows the user to choose the option that it is looking for and set up a meeting immediately.
And since we have integrated hubspot in the background, we are able to track all the information filled by the users and have our sales rep contact them personally through email.  
3) Pharma Bot
Pharma chatbots are nothing short of medical advisers to patients that cannot immediately reach a doctor. These bots provide information on how to respond to certain health conditions, how to undertake a complex drug procedure or simply how to use a new medical device.
When patients feel too overwhelmed to read the fine-print written on drug packaging, these bots serve as digital assistants by educating the users on the side-effects and dosage of a certain drug.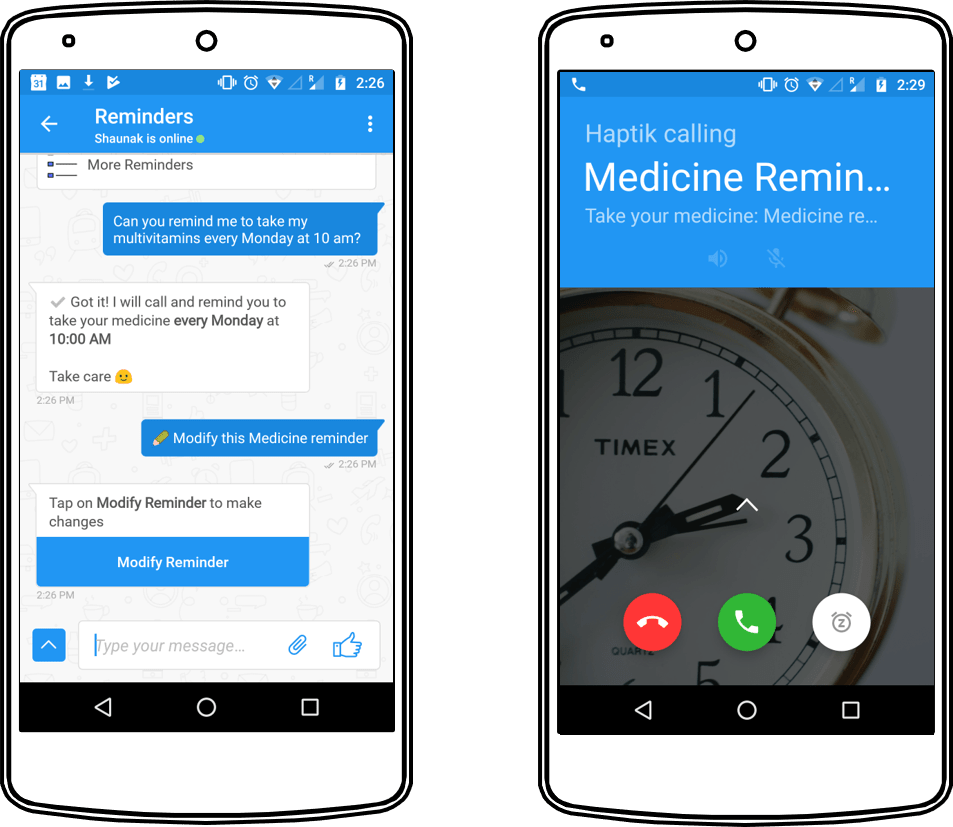 Example: Florence is a health assistant bot that helps users stay on track with their treatment regimens by sending medicine-specific reminders and information. It can also locate physicians and pharmacies, and help users track their health information.
4) Productivity Bot
Let the bots do menial tasks while the employees get on with more important things! Almost all smart businesses are using productivity bots these days to automate their frequent tasks.
These bots are not dumb programs that can only respond to the same old clichéd questions such as when is the team meeting? Or what is the office wifi password?
You can customize these bots to practically do anything work-related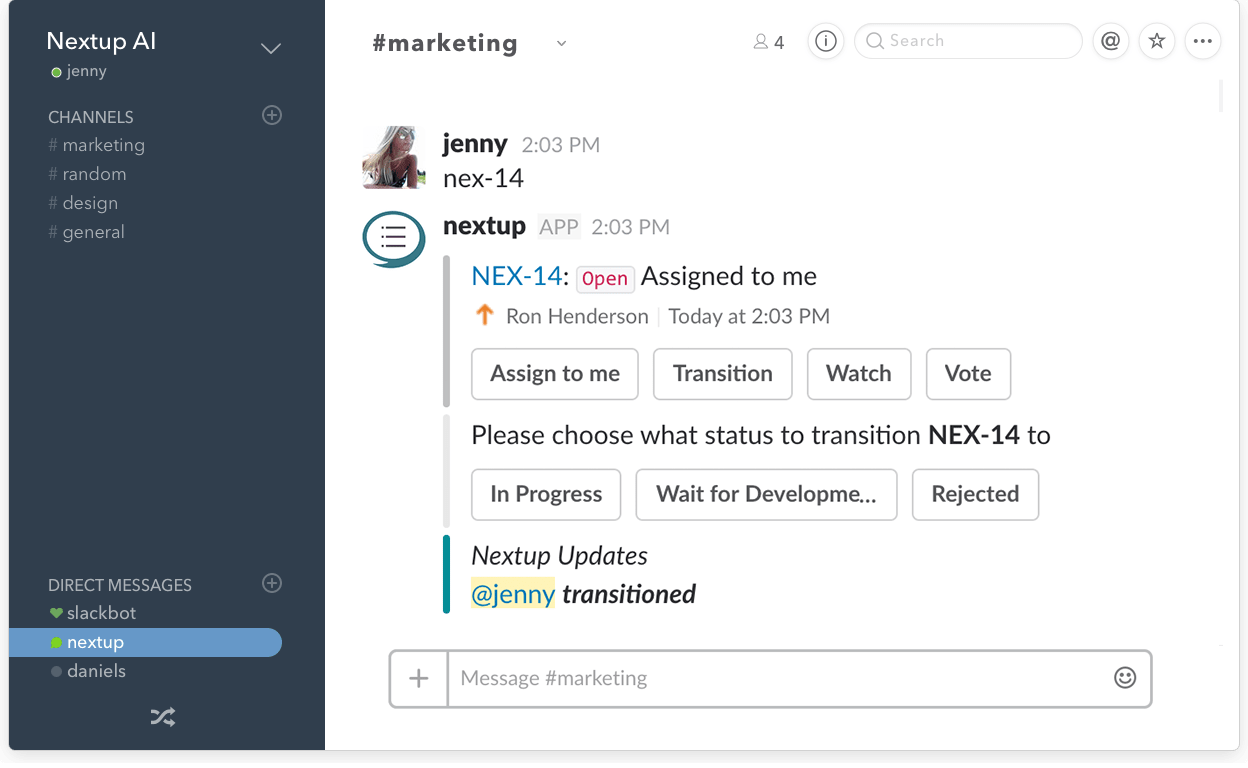 Example: At Lean Apps, we have created a slackbot named Potato that helps us raise impediments, list impediments created by others, delegate an issue, and raise sales and marketing tickets. On an average, we save up to 30 minutes everyday that would otherwise be spent creating tickets on Jira through the web option. And every morning, we can get a quick overview of different projects through release burndown charts that tell us the progress of various sprints.   
5) Appointment Bot
Thanks to appointment bots, call-waits have become a thing of the past. Now you no longer need to slog through calls, or wait for the operator to connect you to the right department.
If you need to schedule an appointment, you can simply tell your requirement to the appointment bot, choose from the available slots, and bam! Within seconds you have your scheduled meeting. Just like that from anywhere on the fly.
It's also a relief for the staff members who can get free from these routine, mechanical tasks and focus on giving a better service to clients.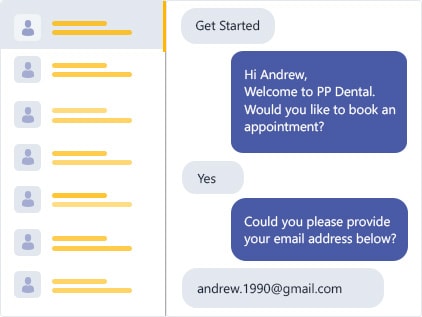 Example: Andy is a scheduling assistant chatbot that helps patients set up appointments with the right doctor with few simple steps without requiring any sign-in, password, or download.
Feebi is a restaurant chatbot that helps diners to book a table online instantly without having to wait in queues.
6) DevOps Bot:
From creating new user stories in sprint planning to running deployment jobs, and performing analytics, there are bots for the complete life cycle of DevOps.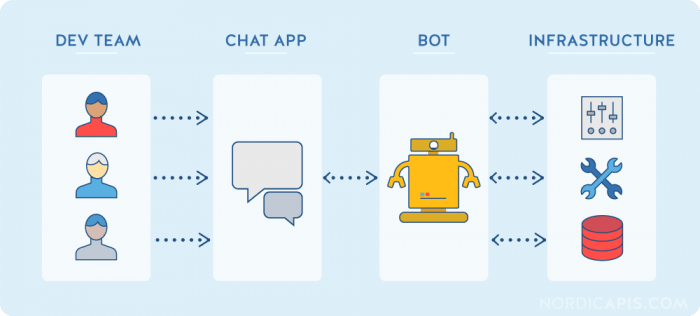 Example: At Lean Apps, we use Slack to connect to AWS. It's called Clive and it allows us to stop and start servers from anywhere, even on a flight, through our phones. Just one simple command.
7) Finance Bot
Finance chatbots seem to have taken on more than mundane queries. They help clients manage their money better by suggesting them ways to save a certain amount each month. 
By using predictive analytics and cognitive messaging, these types of chatbots are able to provide updates on customers' accounts, make payments and even discuss options of getting rid of debt.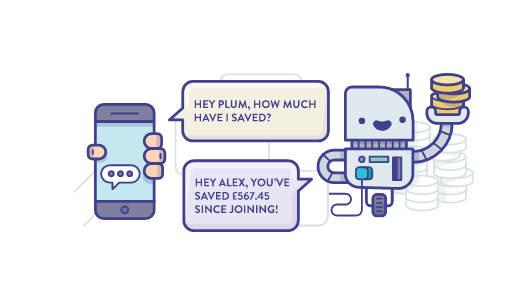 Example: Aida is a bank customer service bot that is able to handle requests like sharing client's balances and reviewing statements with them. Aida helps employees open client accounts easily and more quickly, becoming nothing short of a full-time customer support staff member.
8) Music bot
There are many types of chatbots for artists and music companies that are already bringing artists closer to their fans. 
Example: Katy Perry released a chatbot to promote her album Witness. And it allowed fans to interact with her, get ticket upgrades and use exclusive filters. Spotify chatbot calls its users by their first names and helps them create a group playlist among friends in Facebook Messenger.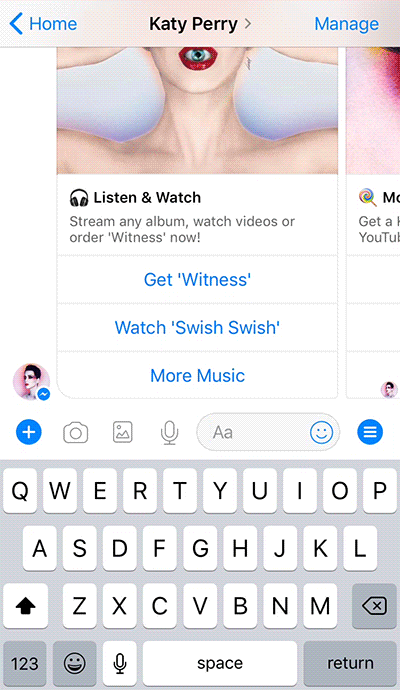 Yet the music industry still has a long way to go. The show has just begun!