Lean Apps team of Splunkers helps companies implement Splunk - both on-premise and cloud versions. Our Splunkers team of Splunk Administrators, Splunk Architects, Splunk Developers and Splunk Enterprise Security experts, think, talk and breath machine data.
what is machine data?
Machine data is the data produced by all digital systems and devices in your company Infrastructure. This can be all computers, servers, mobile devices, applications, call records, security systems, network devices, embedded systems, IoT devices (sensors), big data systems et al. Massive amount of machine data is produced by all these machines every second of every day.
This data is mostly produced in the form of log files. This data (as standalone or when combined with other enterprise data) holds important insights both from business perspective and IT operations. It can be User behavior, security risks, capacity consumption, service levels, fraudulent activity, customer experience and much more. That is the reason it is one of the most valuable segment of Big Data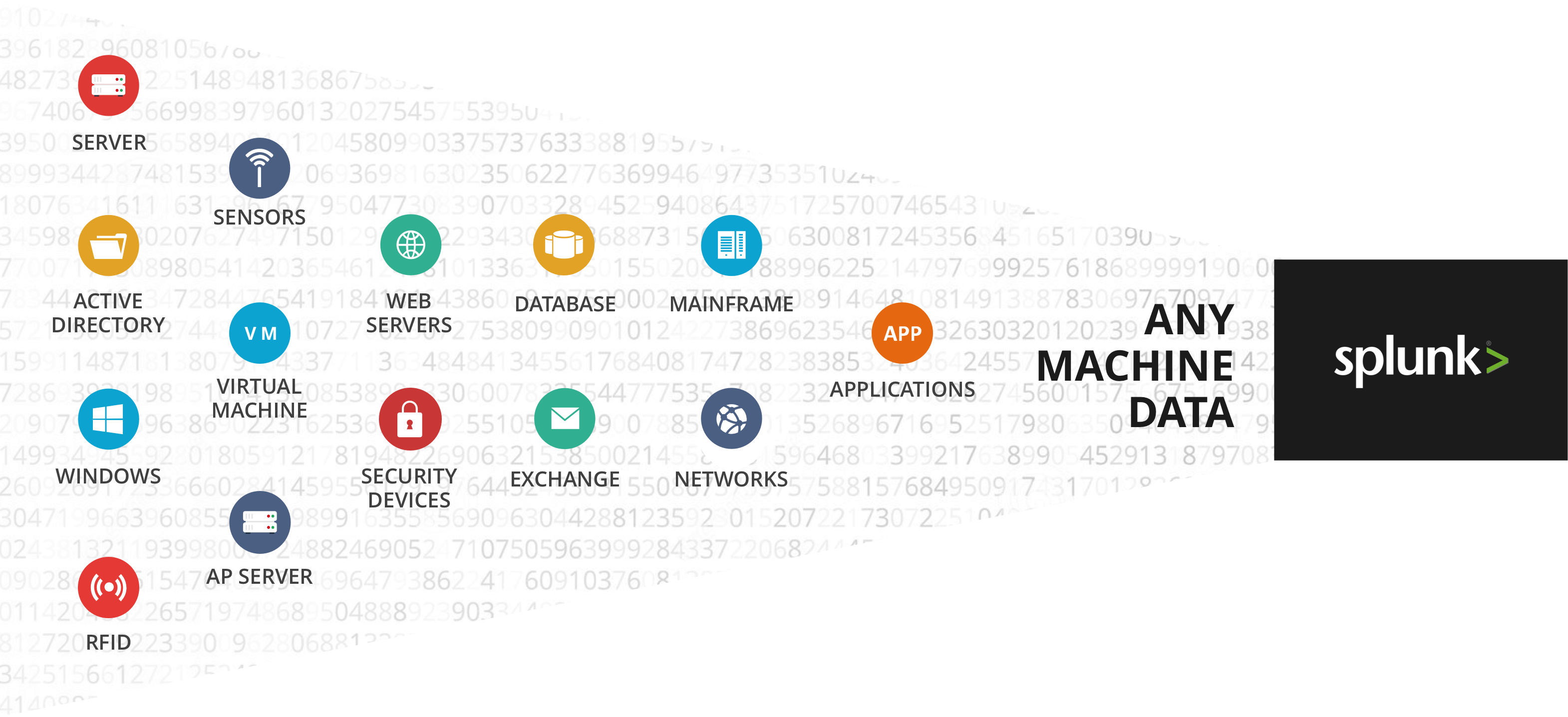 Examples of Machine data usage
Some of the successful examples of usage of machine data are:

Industrial Manufacturer use real time machine data from field equipment, together with historical performance data and weather data to predict equipment issues before it happens

Monitoring oil and gas pipeline based on machine data from marine sensors and predicting natural disasters

Airport use machine data from ticketing system, check-in system, traffic counter system and baggage to plan staff deployment at the airport

Companies using Firewall logs, server logs and application logs to monitor unusual traffic and predict DDOS attacks
Turn machine data into Operational Intelligence
WHAT IS OPERATION INTELLIGENCE?
Splunk enables organisations to gain Operational Intelligence for IT and security on real time basis. It converts machine data into an asset - that can help companies predict problems beforehand and tackle them before it actually happens.
OPERATIONAL INTELLIGENCE FOR IT AND BUSINESS USERS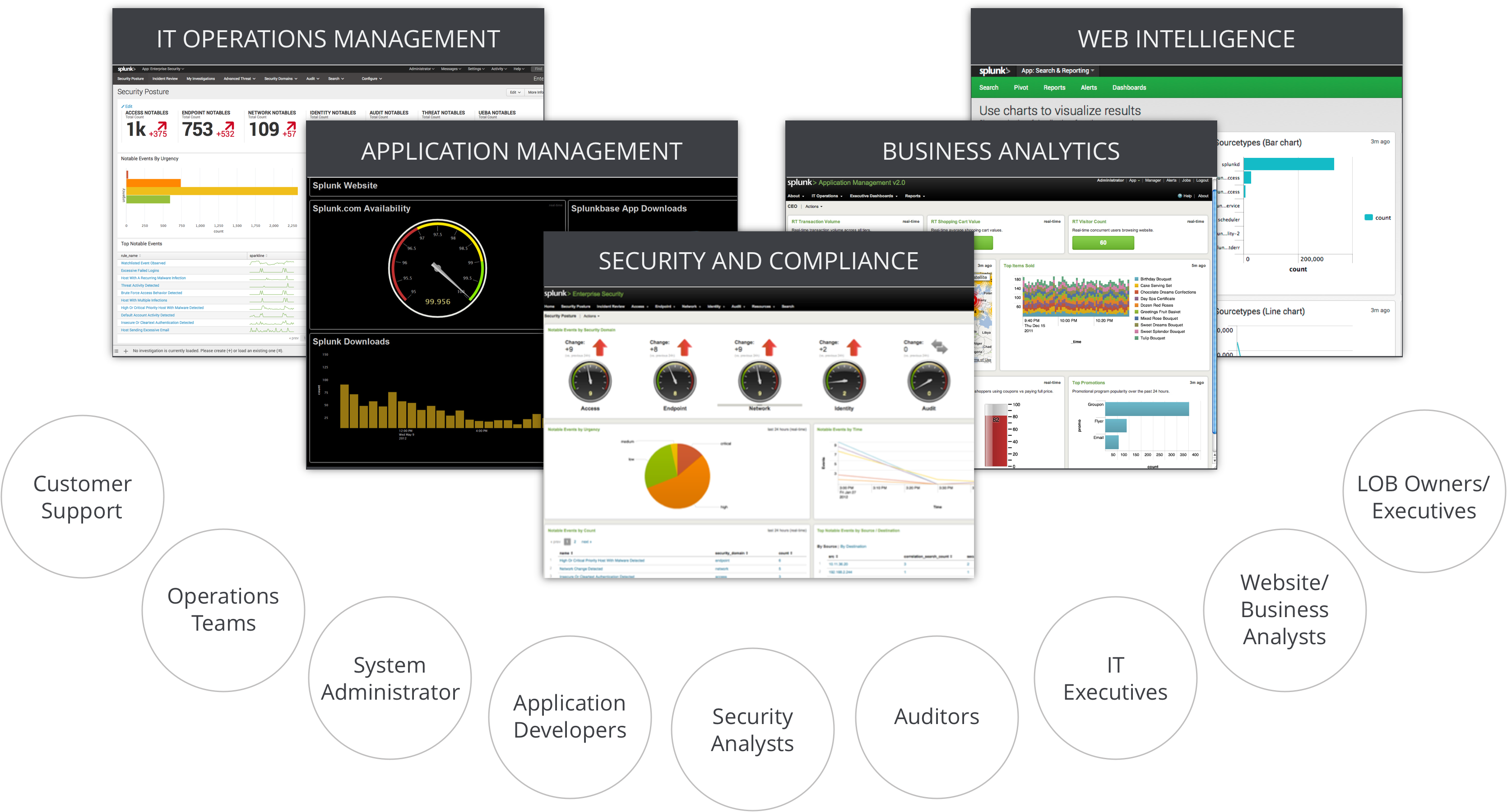 Splunk Enterprise Security a.k.a Big Data SIEM
It is no news that Splunk ES app has been placed as top SIEM solution in Gartner Magic Quadrant for last four years. Splunk Enterprise Security (ES) is a SIEM that provides insight into machine data generated from security technologies such as network, endpoint, access, malware, vulnerability and identity information. It enables security teams to quickly detect and respond to internal and external attacks to simplify threat management while minimizing risk and safeguarding your business.
Splunk App for Enterprise Security
First solution with out-of-the-box content to manage known and unknown threats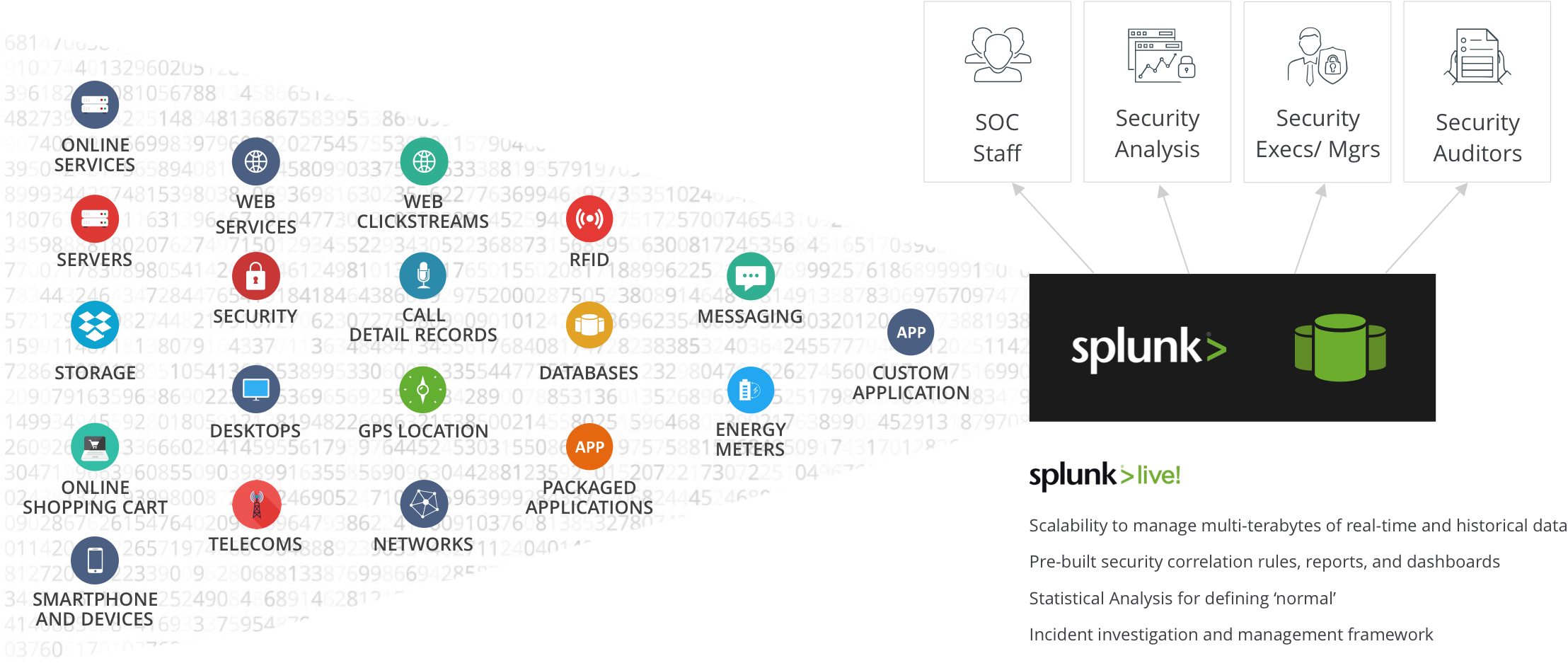 Other Apps in Splunk
Splunk Enterprise Security
Splunk IT Service Intelligence
Splunk App for Windows
Splunk App for Unix & Linux

Splunk Add-On for Netflow

Splunk Machine Learning Tool Kit
JMX

Hadoop