Lean Apps Recognized by Clutch as a Top Cross Platform App Developer for 2019
09 July 2019
At Lean Apps, the idea behind our business is bringing great minds together towards a common goal. It may seem simple, but it has been incredibly effective for our business, creating lasting relationships with our clients that has seen the majority of our revenue be our returning customers. The importance of our work typically goes far beyond our client and has recently been shown to have an impact on the global scale, After being reviewed by Clutch as one of the top cross platform app developers it is clear to see that we have been successful in our mission of putting the best minds together in order to create the best products for our customers.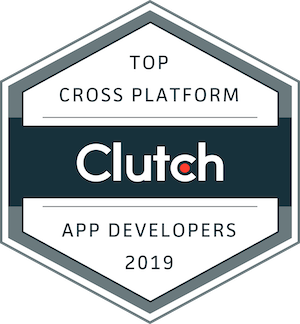 Clutch is a B2B ratings and review firm that is headquartered in Washington D.C. While they typically review other top companies, Clutch itself stands out from its competitors due to their incredibly in-depth review and rating process. The process starts with Clutch analysts performing market research and analysis and culminates with the Clutch analysts interviewing clients from the company. The final product is an unbiased rating of the company that places a major emphasis on the clientele interview. This is an inherent reason as to why we are so happy to have been rated so highly by Clutch in one of their most up and coming categories. Our profile currently has 10 client reviews and we would love to share some of the highlights our clients left below:
"Lean Apps provided high-quality software development work in a timely and cost-effective manner." – CIO, SnapBac LLC
"Lean Apps produced code and documentation that met our internal coding standards without being prompted." – CEO, IT-Labs GmbH
Clutch also has two sister sites, The Manifest and Visual Objects.
The Manifest is similar to Clutch in that it provides a company's information to clients, but in a more streamlined way than Clutch. With just one click, The Manifest offers a company's size, location, and services provided, all at a glance. Visual Objects is Clutch's newest sister sites, and creates a visual portfolio for each creative design company on the site. This allows for clients perusing the site to easily compare the past works of each company in order to aid the client in making the best possible decision. We are proud to be ranked on The Manifest as one of the top react native app developers and on Visual Objects features us alongside other app development companies, and branding and creative agencies. We are incredibly proud to be featured on these sites.
Lean Apps is ecstatic to be listed on all three of Clutch's websites as Top Cross Platform App Developers, Top React Native App Developers and Top Mobile App Developers in India. Each website is designed differently, and the fact that we are so highly on all three of their websites shows that our work is good work. We look forward to working with Clutch in the future, and can't wait to see more client reviews pile up!